Dear Colleagues in the Translation Profession:
Translation Project Managers, In-House Translators, Freelance Translators, Quality Assurance Experts, Proofreaders, and Translation Students around the world!
As the 2011 approaches the finish line, it is time to take a quick look at the past, celebrate the achivements, learn from the errors, and make plans for 2012!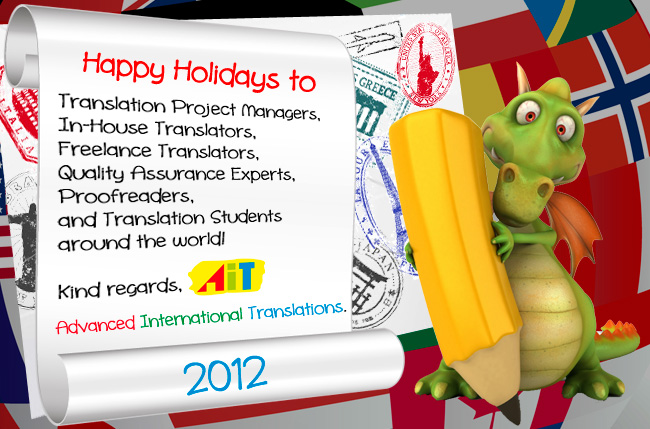 According to the Chinese Zodiac Calendar, 2012 is the year of the Water Dragon. The dragon is the only legendary animal in the Chinese calendar. Let's make 2012 the legendary year to remember!
If you like our card, feel free to share the link with your friends. Let's celebrate together!
Kind regards,
Vladimir and
your friends and colleagues at AIT Software Development Team.
P.S. Our live and offline support works on holidays in a regular way 🙂
P.P.S. Our December promotion ends soon, be sure to claim your end-of-year savings at http://special.translation3000.com/happy2012 !