1It's LAN-based, not Web-based. Why worry about the vulnerabilities of Web browsers and Web servers whenever you work with your important data? Projetex is installed on your own server and can be accessed via your LAN without any Internet access at all; you don't have to depend on your ISP. However, it's also possible to connect to it remotely when needed.
2 This translation agency-management software is extremely flexible. Custom user-defined fields and variables enable customization of most parts of the program. And it will look like it was developed especially for your translation business.
3 Based on a reliable database platform, which does not require any additional licensing, and powered by Microsoft SQL Server Express®, Projetex allows you to set up a database server on any computer in your network. Data is stored securely, and you can perform back-ups at short notice without stopping the server. The best thing is that you don't need to pay hundreds of euros for it. Other software is much more expensive because it includes the cost of the database licence in its own price.
4 Allowing secure concurrent access of multiple workstations, Projetex works with multiple user accounts while enforcing highly customized individual access rights. It also allows for manageable access to every area of the database. This guarantees that all your data is secure and that data can only be viewed by people you assign appropriate rights to.
5 Projetex features automatic file management. All your projects and client- and vendor-related files are stored and automatically organized in a logical folder structure created with a single mouseclick. All your corporate workflow documents can be stored for future reference using fully customizable RTF templates. This saves a lot of time and you have all your files structured in the right way as well.
6 With Projetex, you can enjoy easy data import and export. You can import your existing client and vendor databases into Projetex quickly and easily with the help of the Projetex Import Utility if they are in an XLS, CSV, DBF, TXT or XML format. You can migrate data easily, spending just a matter of minutes importing your current databases.

7 This program provides users with advanced search and data filter options – all the workfow data stored by Projetex can be filtered quickly to display information of special relevance. This makes searches much simpler and faster.
8Projetex's intuitive interface means little time is required to train members of your team, so the cost of instruction is also kept to a minimum.
9Projetex supports a variety of currencies; accounting is possible using multiple currencies, which are automatically converted into your company's base currency. Clients' and freelancers' accounts are also clearly visible at any moment in time.

10Project accounts are good indicators of a particular project's profitability. Projetex will help you get a clear picture of your business's performance.
11Projetex features customizable corporate workflow documents; job assignments, purchase orders, invoices and quotes are saved in RTF files using fully customizable templates. You can create as many templates as you require. Generate documents with a single mouse-click and just spend seconds doing so, not minutes.
12AnyCount 8.0: Projetex 3D now features AnyCount 8.0, the best-selling text-count engine. Using the built-in version of AnyCount, you will be able to count words, characters and lines in files and you can use data you have received to create new jobs as well. The text-count engine will give you comprehensive word-count results and enable you to count text in parts of files that other programs overlook.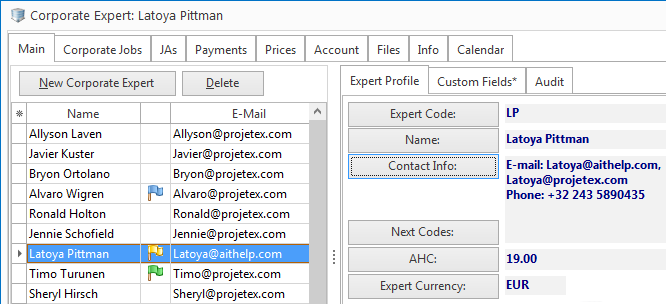 13This program employs a comprehensive project structure, a tree-like view of projects showing both corporate jobs and freelance jobs, which correspond to each client job. Furthermore, Projetex makes a clear distinction between corporate and freelance jobs. You'll never get confused again because of large numbers of jobs, files and instructions! All of them are structured in a straightforward and intuitive way.
14Detailed filters with various time and status spans allow users to filter project records by various conditions. Colour highlights are available for current projects and jobs. You can just see the data you actually need to see by using a filter. This will save you time and you won't get confused by having too much information on screen at once.
15The search options offered by Projetex are easy to use. You can search for suitable freelancers by means of rates or the jobs they have already completed.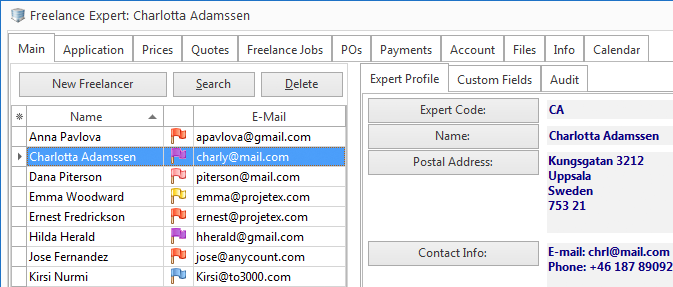 16The Freelance Team feature allows you to select and save groups of translators who are to work on particular projects. Those translators who are eligible to join such groups can be shortlisted before final choice is made.
17The FTP client built into Projetex is available directly on the Files tab, enabling rapid access to your Clients and Experts FTP folders. There's no need to use any additional software; Projetex allows you to work without using any extra resources.
18Automatic numbering of workflow documents allows better management of all translation-agency documents.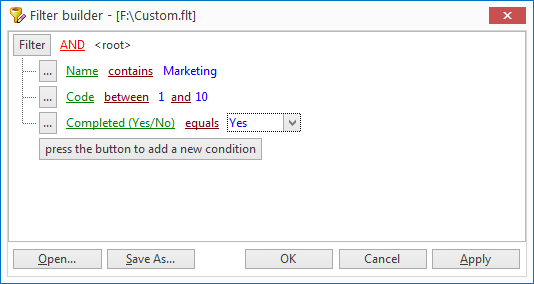 19Projetex's invoice-management system means that you will never forget a single invoice or payment again thanks to the program's advanced invoicing and payment features. Projetex allows you to keep tabs on overdue invoices or completed jobs that have not yet been invoiced. Furthermore, discounts, tax and different currencies are all supported. You can even use the built-in templates or create your own custom documents.
20 Projetex offers a searchable client database in which you can enter all the important information about your clients: contacts, project managers, files, projects, assignments, marketing information, prices, quotes, invoices and payments. All the data will be stored in one place, so you will never have to waste any time searching for the information you need.
21This program can complete multiple actions simultaneously. The rapid generation of numerous invoices, purchase orders and payments saves time and makes work easier.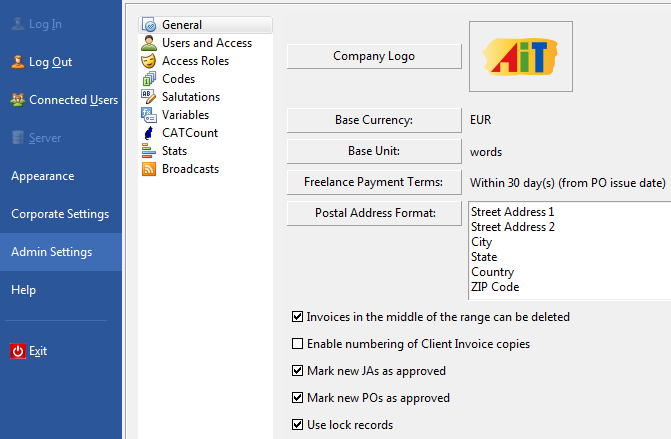 22Projetex provides a flexible system that links payments to invoices. Multiple invoices can be settled by a single payment, and a single invoice can be settled by multiple payments. Furthermore, the program gives you the ability to enter special 'phantom' payments and 'phantom' invoices to settle negligible amounts that are outstanding.
23Consistency in pricing is maintained through the Client Price List – Prices relationship. There are primary General Prices, which serve as reference points, and Custom Prices for each client.
24The freelance experts database allows users to create and continuously enhance a shared database of freelance experts.
25The general rates for freelancers offered by Projetex are accessible for reference purposes and serve as guidelines for acceptable prices for translation-agency projects.
26Projetex provides many more features that have been developed on the basis of feedback from our users at translation agencies around the world. It has been on the market for over ten years, ever since 1999, and is an established business-management package for agencies.
View history of Projetex development
Feel free to download free 30-day trial of Projetex or request a demo.